There are numerous original equipment manufacturer (OEM) parts made of rubber and rubber-like materials. Thermoplastic polyurethane (TPU) is a soft elastomer, effective for applications that demand parts with flexibility and durability. The TPU material is used to replicate the other materials that we can provide to our customers. Production of rubber has traditionally been achieved primarily with compression and injection molding. Fortunately, the advancement to modern technology with 3D printing has provided improvements for rubber manufacturing and the opportunity for small to medium rubber parts to be prototyped.
3D printed parts work great for verifying fit up, testing space claim, evaluating visual appeal, and rough performance characteristics.
3D Printing Technical Support
If you need a rubber part customized for your application, Ebco can help! We can design and assemble high-grade 3D printed rubber parts in as little as 1 week. When you partner with Ebco, you get a team of engineers with over 65 years of experience of OEM parts committed to helping you succeed.
To learn more about our exclusive 3D rubber design and prototyping capabilities – Call Us Toll Free at 847-531-9500.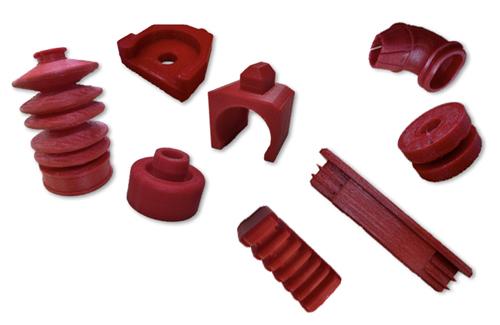 3D Printing Specifications
With rapid prototyping, we can produce parts for prototyping.
The 3D printer has a build volume of 11"x 11"x 9.8" and uses a dual-extruder print head to allow more complex geometries that need water soluble support structure.
Advantages of 3D Printed Rubber vs. Injection Molding
Economical: 3D printing does not require costly molds or tooling. As such, it would be much more cost-effective for prototypes and part evaluations.
Short Lead Times: Production of parts can be achieved in just a few days, whereas, the lead time for injection moldings can typically take 6-8 weeks.
Variability: Almost any part for any application can be achieved.
Versatility: We can achieve difficult designs with intricate interior geometries, that can replicate even the most complex mold.
Agility: Parts can be designed and redesigned with no additional tooling cost. Design adjustments on parts through traditional moldings would require new tools!
3D Rubber Printing is ideal for:
- Boots
- Bumpers
- Grommets
- Handles
- Isolators
- Lids
- Plugs
PLEASE NOTE:
Rapid prototyped parts printed in thermoplastic polyurethane can be used to replicate 30-80 shore A durometer by varying infill %. The TPU material does not replicate the vibration isolation performance characteristics of vulcanized elastomers such as natural or neoprene in dynamic applications. However, the 3D printed parts can be used to replicate the static stiffness of the component which can be especially valuable for user input applications.